Specials FAQ
---
Which Covid-19 regulations apply for the weekends?
As things stand, there are no longer any Corona restrictions for our dance weekends. However, we reserve the right to adjust the rules if the situation should change and will then inform you in good time by e-mail.
May I join the club weekend?
The club weekend is an internal A- and C- weekend for members only. Unfortunately, we are unable to invite non-member guests to this event.
Where do the dances take place?
Since 2015, all special dances take place in Siegen.
How much does it cost?
For prices of the events see the respective flyers. Please note that the standard fee covers standard accommodation. For other room types surcharges or discounts apply, see the respective flyer for details.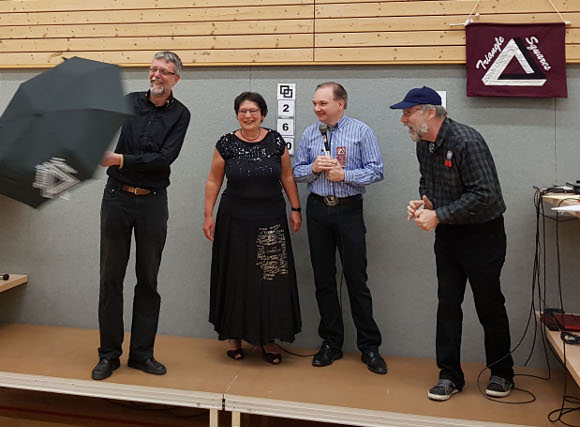 What are the different room types?
Standard accommodation is a double room. These are available with single or double beds, please specify your wishes on your registration form. If for registration of singles, please tell us with whom you would like to share your room.
Booking of shared rooms (for a discount) or single rooms (for a surcharge) is possible but subject to limited availability.
Single, double, and shared rooms each have ensuite shower and WC.
Is a single room still available?
The number of single rooms is limited. If you request a single room, you might find yourself on the waiting list, although the weekend is not yet fully booked. Feel free to contact us if you want to share a double room, we will help you to find a possible roommate.
Can I stay in my mobile home?
Overnight stay in a mobile home is not permitted on the hotel premises.
How do I pay?
For holders of bank accounts in the SEPA area, we offer the possiblity to pay by direct debit, see the registration form on the downloads menu!
Guests are asked to transfer the money to our bank account until the registration deadline (see flyer), which is always 45 days ahead of the dance.
Please transfer the money to:
Triangle Squares e.V.
Deutsche Skatbank, Altenburg
IBAN: DE82 8306 5408 0004 7672 84
BIC: GENODEF1SLR
When do I have to pay?
Advance payments are not required. The whole sum has to be paid to our bank account by the registration deadline (exact date is given on the flyer, always 45 days before the event). Exempt from this are participants which gave us permission for direct debit; we will process the direct debit payments about four weeks before the event.
Do I have to pay if I am on the waitlist?
No, participants on the waitlist do not have to pay initially. Only if you receive a notification from us that you moved up, the following rules apply: Payment is due immediately (if the registration deadline has already passed) or is due until the registration deadline.
How much do I have to pay?
The price for the weekend is given on the flyer. Please pay the price for the type of accommodation that we confirmed by e-mail. (This applies for direct debit as well as for bank transfers.) Should the actual accommodation change in the final room assignment, you will be refunded the price difference or will have to pay the respective surcharge. Usually we handle the payment or refund of those differences in cash during the weekend.
Why do I have to register?
Pre-registration is required because of limited space on all of our weekend specials, so please register early by e-mail or letter if you intend to participate.
When registering for our weekends by e-mail, please do not forget to tell us your club, address, and phone number!
Can I cancel my registration?
Send your cancellation request, preferably by e-mail, to our registration contact. Please phone a board member for last minute cancellations (on Thursday or Friday of the dance). Usually we will confirm your cancellation within 48 hours by e-mail.
Note: E-mails can get lost for various reasons, be it a misspelled address or glichtes of the mail system. Therefore, your cancellation is only valid once you have received our confirmation.
On receipt of your request, we will pay back money that we already have gotten from you. Please note that we will charge you with a cancellation fee of 30 EUR if you cancel your registration after the registration dealine has passed.
For cancellations within 10 days before the event, the hotel might charge us cancellation fees of 100 % of the agreed package price, which we will then charge in addition
In case of a no-show without prior cancellation you will have to pay the full price for the weekend in any case.
Should the event be cancelled, all payments will be fully refunded.
Can I give my place to someone else?
The registration is only valid for the named person. If this person cannot participate, the registration must be canceled. The free place will be reassigned by us (to the next person on the waiting list), we do not allow the participant to pass it to someone else.
When may I register for a dance?
Registrations are possible by e-mail starting at Sunday 12 p.m. noon, one week ahead of the same dance weekend in the previous year.
Places will be assigned in the order of the incoming mails, once the weekend is fully booked, additional registrations will go to the waiting list.
Registration requests arriving before the start of registration cannot be considered. Start times for registrations are quoted on our event schedule and on the flyers.
Of course it is still possible to register using a registration form at our dance weekends.
May I still register for dances marked as "fully booked"?
When a weekend is marked as "fully booked", we keep a waitlist. If you like, you can register and have yourself waitlisted, to get a chance to move up and eventually get a free place.
Where do I send my registration?
Please send all registrations for weekend specials to our registration contact.
Does a registration guarantee me a place for the weekend?
Once your registration has been confirmed, a place for the named person is guaranteed for the respective weekend, but only if we have received a payment before the registration deadline or if a successful direct debit could be processed.
At that point of time, any registrations not backed by payment become void, and people from the waitlist move up.
If it should be necessary to cancel the event for any reason, all money that we already received will be paid back. Please note that no legal claim for the execution of the event or to your participation shall be constituted by a registration.
In no case we can guarantee that special room requests (escpecially for rooms types with limited availability) can be fulfilled, and we preserve the right to change room allocations.
Will I get a confirmation of my booking?
Yes, but only if you have given us your e-mail address with your registration. We will send notfications of every status change (receipt, confirmation, wait list, cancellation) to that address. You will also get a web address where you can review the data of your booking.
What dress code applies for the weekend?
For Saturday night we recommend traditional square dance attire, optionally also for Friday night. On all other sessions casual dress is sufficient. As you are likely to sweat a lot, we recommend bringing along sufficient extra clothes for changing. Fresh casual clothing is definitely preferred over sweaty traditional attire.
Do I have to bring towels, bed linen, hair dryer?
Towels and bed linen are available from the house and included in the price. In Siegen there are hair dryers in the rooms.
You are using a computer program at your weekends?
That's right. At all of our dance weekends we are using the Triangles Rotation program. A quick guide is provided under "Downloads".
I have additional questions!
Please direct any additional questions to our registration contact.